Growing up in New York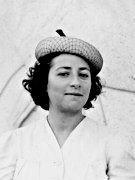 Two memories punctuate my childhood in Brooklyn: getting up before sunrise to write on empty pads, and entreating my parents to buy me a piano. By the time they did I had filled many pages with scribbles and doodles. The piano was a cheap, black upright that cost twenty American dollars, more than they could then afford, but my mother saved up from her weekly grocery allowance to buy me this great gift for my fifth birthday. It was carried up two flights of stairs of a tenement house as the Second World War was ending, at a time when my father – the son of Sephardic Jews who had immigrated from Istanbul to New York - was earning twenty-five dollars a week working as a junior civil servant in Manhattan. The gift was four-fifths of his week's salary.
By six I was taking weekly piano lessons, encouraged by my parents, and worked my way up to ever-better teachers. Then, at ten, impresario Samuel Chotzinoff heard me play and brought me as a full-scholarship student to his settlement house in Manhattan, the Chatham Square Music School, where famous piano teachers like Adele Marcus taught and legendary pianists such as Byron Janis were trained. I was assigned to Madame Anka Bernstajn Landau (1876-1972), a former master of the Vienna Conservatory and Jewish refugee who fled the Holocaust with her niece in 1937 – before it was too late – with the help of pianist Rudolf Serkin (1903-1991). Her pathetic outcry to Serkin is lodged in the Juilliard Archives. Once settled in America with Serkin's intervention she thrived, and sent her best students to play for Serkin. She carried immense influence on me. When I was about to perform the Beethoven Third Piano Concerto under Julius Rudel and the New York Philharmonic, having won a student competition at fourteen, she sent me to Serkin who, in turn, sent me to play for Mieczysław Horszowski (1892-1993), the Polish pianist born in the same city (Lvov) as Landau. Horszowski's mother had studied with Chopin before she taught her son; Landau met Brahms several times in Vienna as a student before his death in 1897. The tradition of these 'presences' burned musical history into my cells forever.
In my last year at Performing Arts two teachers changed my life. Cecilia Drewry, who taught me English, and Sam Tolmach history. They were superior teachers: Drewry went on to teach at Princeton and Tolmach's daughter became one of America's most distinguished linguists. By the time I graduated, academic curiosity energized me but Landau and Serkin warned I would never become a concert pianist if I took a long break to attend university. I thought I had no choice and went.
Growing up gay in metropolitan New York in the late 1950s, the decade of McCarthyism and the vomiting out of racial poison in America, was a treacherous dance – like walking on a tightrope. You learned to move by stealth and watched everything you said. Performing Arts was full of talented gay kids – most of them petrified by the prospect of being 'outed' – but the dancers were the most tortured: in touch with their bodies in ways neither the musicians nor actors were, their adolescent hormones bursting out of their tights. An enormously talented dancer of Italian descent who later became internationally famous told me when we were thirteen that his non-English speaking Italian father would kill him if he knew. An actor, also of Italian descent, who was dazzlingly handsome, confessed to having a twenty-something lover in Manhattan; he said he lived in daily dread of being found out. All this while my father's brother, Ike, a New York subway driver who was as proud to be as 'American' as the Statue of Liberty, announced to my family one Sunday during the frenzy of the Civil Rights movement that he would kill his wife and three sons if 'the Blacks' (that wasn't the word he used) ever moved into his street in Flatbush. Although I was too naïve to know much then, in America it was the decade of hypocrisy and hatred, mollified for me only by Mozart and Beethoven.