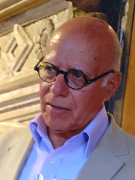 George Rousseau grew up in Brooklyn New York where he studied to become a concert pianist at the School of Performing Arts in Manhattan. Two very fine teachers instilled the 'bug of reading' and he decided to attend university and become an academic scholar, first studying Classics at Amherst College and then English and Comparative Literature at Princeton University. He has taught literature and history at Harvard and for many years at UCLA. In 1994 he moved to the University of Aberdeen to take up the Regius Chair of English Literature and then to Oxford University where he is a Co-Director of the Centre for the History of Childhood.
His books centre chronologically in the Enlightenment, and usually include medicine, science and sex as primary to their concerns. An early article on Enlightenment sexuality won the James L. Clifford Prize for the best article of the year (1987). His trilogy of books about the enlarging circle of Enlightenment knowledge was published by Manchester University Press (1991) and was widely cited in the years following publication. He and the late Roy Porter teamed up and published Gout: The Patrician Malady (1998), which Yale University Press published. He also published a short biography of Marguerite Yourcenar (2004) that has been translated into several languages. His essays were collected and published by Palgrave Macmillan as Nervous Acts: Essays on Literature, Culture and Sensibility (2004).

George is a Fellow of the Royal Historical Society and has been awarded several doctoral degrees honoris causa. He lives in Oxfordshire with his partner J F Sturley, a British landscape gardener.
Photo courtesy Dr Kenneth Wolfe